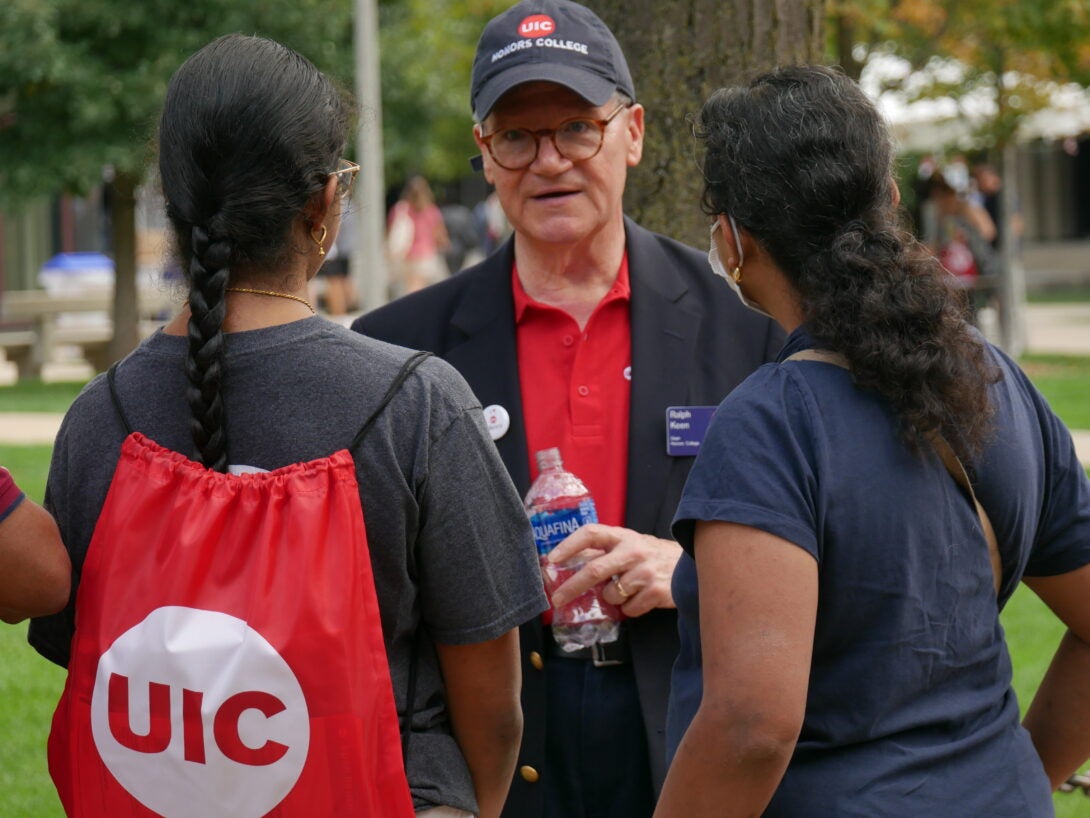 The UIC Honors College provides an environment for advanced academic growth, creative engagement, and a foundation for lifelong learning in the dynamic, urban environment that is the Great City of Chicago – bringing together a diverse group of exceptional undergraduate students, faculty, and staff.

The Honors College Vision
The Honors College will stand out as an inclusive community of scholars – within the university and among its peers – by emphasizing transformative academic and personal development among its students, faculty, and staff; encouraging innovation and tenacity through the integration of knowledge and world-class research; and advancing the pursuit of a just society through leadership within a global city.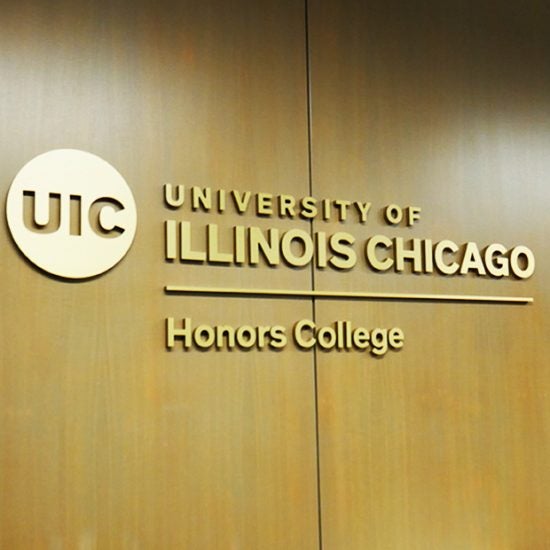 Our students are recognized on campus as leaders, innovators and contributors to the UIC community and the city at large. Please download our fact flyer for more information on demographics, enrollment statistics, and more.
Download Fact Flyer
Honors courses are small in size and taught by top professors on campus, providing students the opportunity to interact with UIC's finest scholars. Hundreds of UIC faculty members volunteer each year to work with Honors students because they enjoy working with motivated and talented students.
All members of the Honors College also belong to a degree-granting college such as Liberal Arts and Sciences (LAS) or Engineering. Those students participating in web-based programs, however, are not eligible for participation at present. Members of the Honors College are expected to take honors courses and/or participate in an array of experiences beyond the classroom each semester.
Essential benefits of being a member of the Honors College include:
Specialized topics based courses, lectures, and seminars taught by premiere faculty
Increased opportunities to participate in undergraduate research
All students are assigned a Faculty Fellow to provide deeper mentorship in their field of study
Chance to participate in student organizations led by Honors students (see HCAB, SFP, Red Shoes, CCP?)
Consideration for and the opportunity to apply to additional scholarships and grant funding
No additional time to graduate; all your honors courses count toward your degree!
In addition to your degree-granting college advisor, you will also be assigned to one of the advisors from our well-armed advising team which boasts a low student to advisor ratio
Use of Honors College facilities in Burnham Hall including the Computer Lab, Quiet Study Room, & Student Lounge
The Capstone: A 2 semester-long research-based project crowning your final terms at UIC, and in the Honors College, in the area of your choice under the guidance of your Faculty Fellow