Honors Ambassadors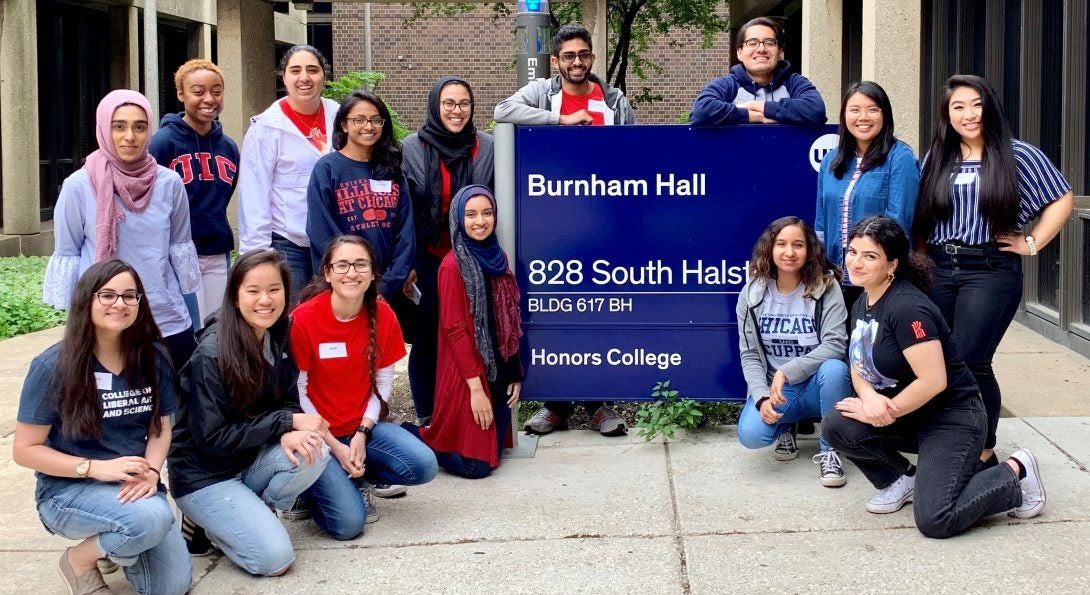 Honors Ambassadors are Honors College students who take a leadership role by helping recruit and welcome new students into UIC and the Honors College. Honors Ambassadors assist new students joining the Honors College in their transition to the university and the Honors College community.
For questions, contact the Honors Ambassadors program coordinator: Alex Sainvilier.
Look for posts from our Honors College Ambassadors throughout the summer and academic year.
Instagram: uichambs
Hashtags: #uichonors, #uichonorscollege, #uichonorsambassadors
| Ambassador | Major(s) / Minor(s) | Career / Educational Goal | Joined the Honors College as a ... |
| --- | --- | --- | --- |
| Ale Hernandez | Kinesiology / Psychology | Physical Therapist | |
| Aseal Liqa | Neuroscience / Chemistry | Pre-Medicine | First-year student |
| Beija Teolis | Integrated Health Studies / Disability and Human Development | Pre-Pharmacy (GPPA) | |
| Cecilia Ramirez | Public Health / Spanish for the Professions | Physician | |
| Dana Romero | Integrated Health Studies and Psychology | Pre-Medicine | |
| Daniela Guerrero Rodriguez | Public Policy, Political Science and Sociology / International Studies | Pre-Law | |
| Deepa Dhillon | Biology Major and Chemistry Minor | Pre-Med | |
| Elijah Rodriguez Beltran | Computer Science | Masters Degree in Computer Science with a focus on Natural Language Processing | |
| Eram Fatima | Neuroscience / Chemistry | Medical School, Neurosurgery | |
| Fernando Mantilla | Computer Science | PhD in CS with a focus on Education, Law or Minorities in CS | |
| Julie Gawenda | Bioengineering / Biology | Pre-Medicine | |
| Lamisha Tabriz | Neuroscience | Physician | First-year student |
| Lola Bolarinwa | Biochemistry | Pre-Medicine | |
| Maheen Hassan | Integrated Health Studies | Pre-Dental | |
| Makenzia Jackson | Biological Sciences | Pre-Medicine | Continuing UIC student |
| Marian Udoetuk | Political Science and Psychology | Law (GPPA) | |
| Mary Ashley Tenedor | Bioengineering (Computer Science) | Professor (but considering Industry) | |
| Meriam Khalifeh | Public Health (Sociology) | Pre-Law | |
| Nada Marei | Biochemistry / French and Francophone Studies | Pre-Dentistry | |
| Nallely Ramirez | Biology | Pre-Medicine | |
| Noor Chaudhry | Neuroscience | Family Medicine / Emergency Medicine Physician | |
| Priyanka Kaushal | Neuroscience / History and Chemistry | MD Physician (GPPA Medicine) | |
| Rama Izar | Communication, Spanish; Disability and Human Development, Business Administration | Still Deciding! | First-year student |
| Rawan Suleiman | Public Health / Biology | Pre-Medicine | |
| Salaam Khater | Biochemistry | Pre-Pharmacy | |
| Shumiza Khan | Psychology | Medical School | |
| Susan Singleton | Black Studies / Spanish | Higher Education (race studies professor and researcher) | |
| Temi Sodipe | Public Health / French and Francophone Studies | Pre-Medicine | |
| Victoria Thor | Political Science / International Relations | Pre-Law | |