Student Stories is a way to highlight our students with their stories and a way for students to hear from students. Our students have many accomplishments, in and out of the classroom.
From world fencing championships; synchronized ice skating, and teaching gymnastics, to writing a Puerto Rican fantasy novel based in a historical Chicago neighborhood, Honors students have unique talents or abilities; and a willingness to embrace diversity in both ideas and people.​
Rahul Kakarlapudi – "Gone Too Soon"
Rahul describes how he incorporated his newfound love for manual photography and his Computer Science major for his Capstone project. Using his newly learned photography techniques, Rahul's work showcases how some endangered animals in the wild are disappearing.
Janessa Acosta – "A Bruja from Humboldt Park"
UIC Honors College student Janessa Acosta discusses their Capstone project, "A Bruja from Humboldt Park", a still in-progress novel based in the historic Chicago neighborhood.
The story centers around a young woman and involves supernatural cultural elements found in Puerto Rican culture. Janessa describes their ideation of the concept and why she decided on a creative Capstone.
Jovan Jovanovic - Balancing fencing championships and studies Heading link
Jovan Jovanovic – Balancing Fencing and Studies
Listen to Honors College student Jovan Jovanovic tell his story. From traveling the world to fencing, Jovan describes his involvement and talks about managing his busy schedule!
Halina Tutaj – A Dancer Transfers
Halina Tutaj describes how her passion for dancing led to a pursuit of nutrition and how the beginning of the Pandemic affected her dancing routine.
Autumn Blackmon-Swanson - Chicagoland Native Talks Business Heading link
Autumn Blackmon-Swanson – Chicagoland Native Talks Business
Learn about how Chicagoland native Autumn Swanson became Vice President of AMA-UICDiversity Peer Mentor UIC Business and more!
Taleah Bozanic – Skating to the Finish Line
Hear competitive synchronize ice skater Taleah Bozanic describes her trip to Antarctica, why she chose her major, and where skating has taken her.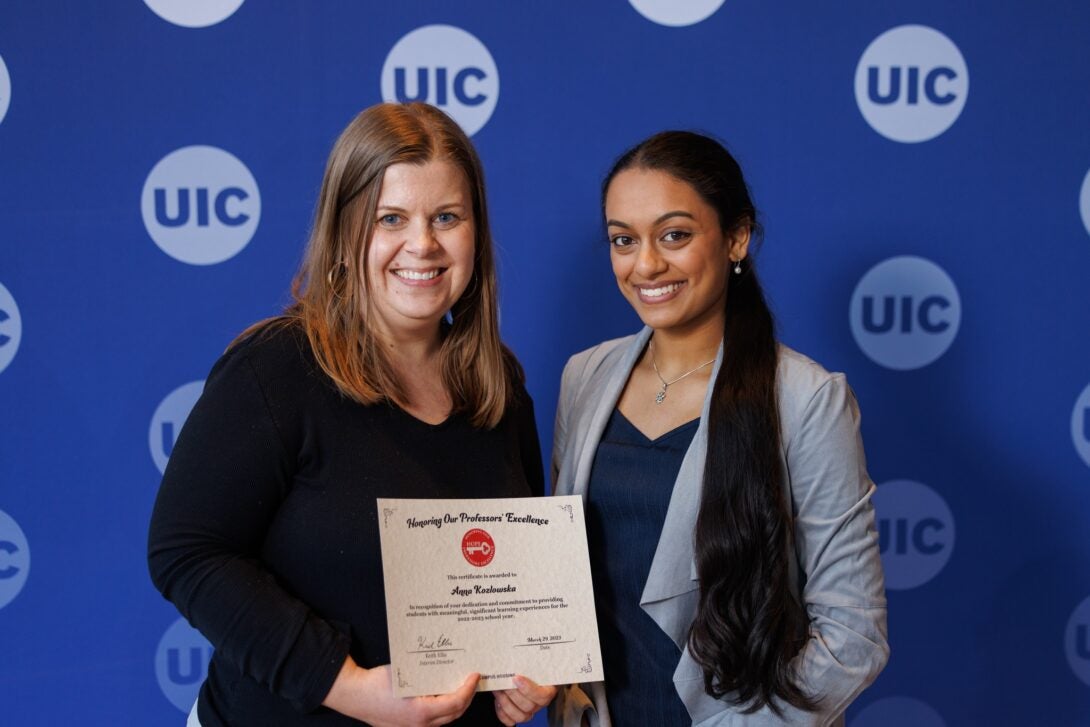 Serving as a Faculty Fellow is an opportunity to mentor exceptional students and welcome them as members of the academic community.  Fellows encourage their mentees to pursue academic excellence and serve as role models of scholarly achievement, serving as sources of information about their department, college, graduate school, and careers.
Faculty members have opportunities to teach courses on topics of their choice to highly motivated Honors College students! The Honors College draws its approximately 1,900 students from colleges and departments across campus, and our courses cover a wide range of topics centered in different academic disciplines.
Honors Course: Cemeteries and Funereally Art
Dr. Michelangelo Giampaoli, is a Visiting Lecturer of Anthropology
Michelangelo is passionate about getting not just students, but everyone to visit one of the most misunderstood places in society, cemeteries. While visiting Chicago's infamous Graceland Cemetery, Michelangelo describes their Honors course 'Cemeteries and Funerary Art' which entails how you can find immense history, culture, and art, in the cemetery!
Why I'm An Honors Fellow – Sarah Abboud, PhD, RN
Listen to Honors College Fellow Sarah Abboud speak about her involvement as an assistant professor at UIC. Dr. Abboud has been at UIC for over 5 years!
Ampersand Feature: Honors Core Course: Social Media & Youth Activism from a Global Perspective Heading link
Ampersand Feature: Honors Core Course: Social Media & Youth Activism from a Global Perspective
Ampersand is a digital publication whose purpose is to highlight the achievements of Honors College students, staff, and faculty, to report on Honors College events, and to provide a forum for students and faculty to share interesting experiences and opinions.
This video is a Spring 2022 feature that explores what Social Media and Youth Activism from a Global Perspective have to offer for Honors College Students. Youth Activism in Social Media from a Global Perspective is taught by Anna Kozlowska.
Honors College – The Challenge – 1991 VHS
Found in the depths of the Honors College, a straight VHS rip of a promotional video.
Prarthana Prashanth | Undergraduates on the Cutting Edge of Discovery at UIC
The College Tour is a new TV series, brought to you by Emmy-nominated and multi-award-winning producers. Each episode of the award-winning TV series, The College Tour, shares the story of a single college or university through the authentic lens of its current students.
Sophomore Math and Computer Science major Prarthana, who's an Honors College student on a Pre-Med track, talks about UIC's cutting-edge undergraduate research opportunities, as well as the school's unique Pathway programs which allow students to explore their passions while on track to one of over 20 professional programs.