New Student Information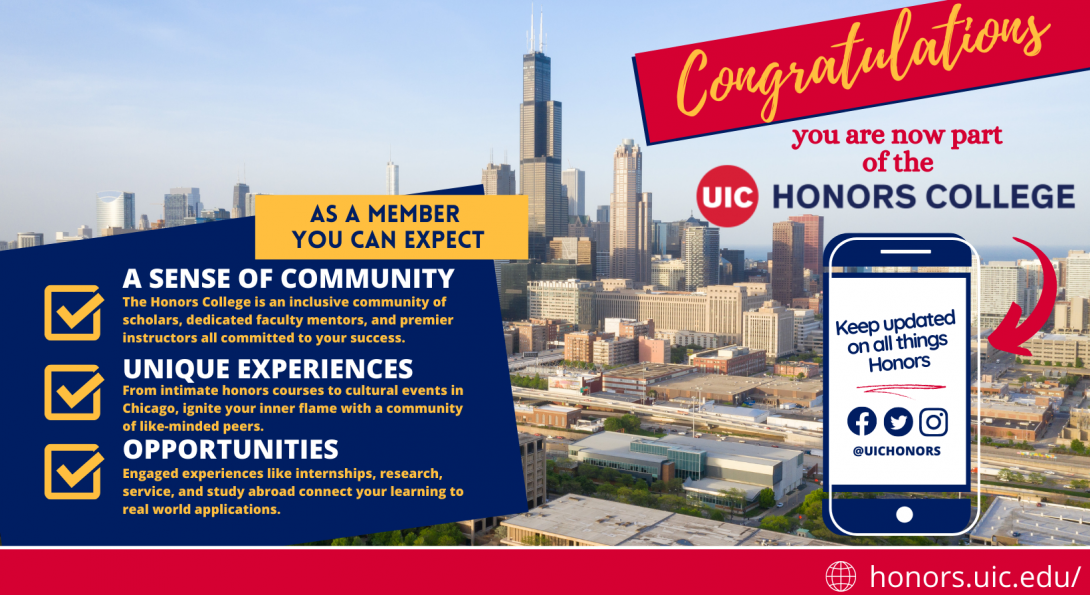 Welcome to the UIC Honors College!  We are pleased that you will be joining UIC as a member of the Honors College!
This page will assist you in planning your next steps with the Honors College.  Select your current status to see additional information.
As a new member of the Honors College you can expect:
A Sense of Community:
The Honors College is an inclusive community of scholars, dedicated faculty mentors, and premier instructors all committed to your success.
Unique Experiences:
From intimate honors courses to cultural events in Chicago, ignite your inner flame with a community of like-minded peers.
Opportunities:
Engaging experiences like internships, research, service, and study abroad connect your learning to real world applications.
Next Steps for first-year students

Admission Decisions: Admission Decisions will be released monthly, on or about the 15th of the month, from November through April.

Scholarships:  The Honors College has contacted admitted students regarding scholarship offers for Fall 2022.  If additional funding becomes available, we will reach out directly to individual students.

Intent to Enroll:  If you have been admitted to the Honors College, your seat will automatically be reserved when you file your Intent to Enroll for UIC.  The Intent to Enroll must have been received by May 1, 2022.

Honors College Immersion Day:  Want to shadow a current Honors College student?  The Honors College will host Immersion Days throughout the spring, where you can spend a day on-campus, attend classes with one of our Honors Ambassadors, and meet with one of our Honors advisors.

Placement Tests: All UIC students, including Honors College students,  are required to take placement tests as indicated by your degree-granting college.  You will need to complete your placement tests in order to register for your Honors orientation.  You should plan to take your placements test by no later than June 1.  To access these tests, go to the my.UIC.edu portal and navigate to the UIC Connect tab.

Online Orientation Modules:  Completing the online orientation modules allows you to attend in-person orientation where you learn about campus and register for classes. You should also plan to complete your online orientation by no later than June 1.  To access these tests, go to the my.UIC.edu portal and navigate to the UIC Connect tab.

New Student Orientation:  You need to attend an in-person New Student Orientation program during the summer.  There are several orientation dates reserved for Honors College students, where you will meet with advisors from both the Honors College and your degree-granting college.

We advise you to complete the orientation process early as that will allow you to have the largest variety of options for your class schedule for the Fall semester.

Orientation reservations were opened on April 18.

Bookmark this page for additional information about orientation and registration.

Next Steps for transfer students

Fall 2022

Admission decisions will be released by July 2022.

Next Steps for Current UIC Students

The Fall 2022 final deadline for CONTINUING STUDENTS has concluded and was June 20, 2022

To complete your admission into the Honors College, all newly admitted transfer and continuing honors students must attend one of our Honors Navigate sessions.

The Honors College advising team leads each session to welcome you to our community of scholars and share important insight into navigating your Honors College experience at UIC.

Each session is scheduled for 120 minutes, and you can choose to attend either an in-person or virtual session.  Honors students should attend orientation with their primary college first to select their major related courses, before attending Honors Navigate.

The available sessions are as follows:

Wednesday, July 27: Burnham Hall 121  @ 9am – 11am (CST)

Thursday, August 11: Online (Zoom) @ 1pm – 3pm (CST)

Each Honors Navigate session will include:

Overview of the Honors College and requirements
Fall 2022 Honors courses and activities
Q & A with current honors students and academic advisors

All Honors College students must register for HON 222: Honors Activity, a 0-credit hour course which marks your involvement in the Honors College on your transcript and tracks your required Honors Activities. Register for the appropriate sections using the following CRNs:

15072 (for students whose last name starts with A through K)
15073 (for students whose last name starts with L through Z)
Contact the Honors College at hcollege@uic.edu if you have additional questions.