Former Fellows of the Year
FELLOW OF THE YEAR, 2017-2018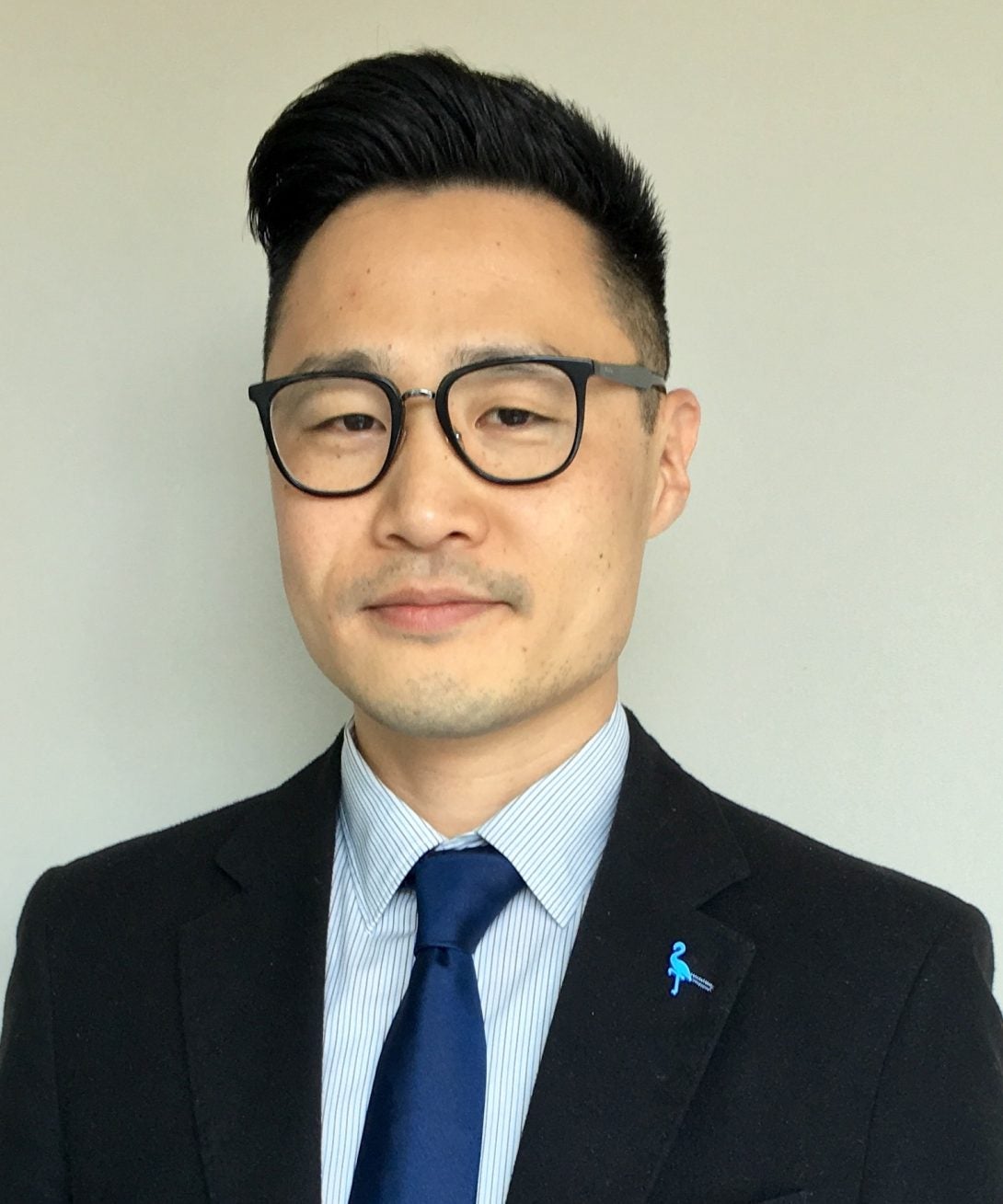 Dr. Michael Jin
Assistant Professor, History and Global Asian Studies Program
College of Liberal Arts and Sciences
Honors Faculty Fellows are individually assigned to provide personalized advising and mentoring to students. Each year, Honors College students nominate Fellows to be honored as "Fellow of the Year" for excellence in mentoring.  We are pleased to award the 2017-18 title to Michael Jin, Assistant Professor, History and Global Asian Studies Program in LAS.  He is also a member of UIC's Diaspora Studies Cluster.
Professor Jin's research and teaching interests focus on migration and diaspora studies, transnational Asia and the Pacific Rim world, Asian American history, critical race and ethnic studies, and historical memory.  His current book manuscript, Citizens, Immigrants, and the Stateless: The Making of a Japanese American Diaspora in the Pacific, examines the transnational migration of 50,000 U.S.-born Japanese Americans who traversed multiple national and colonial borders in Asia-Pacific before, during, and after World War II. His work has been published in a variety of scholarly venues, such as Critical Ethnic Studies Journal and The Routledge Handbook of Asian American Studies.
Dr. Jin was nominated by Honors student Shukri Ideis, who said, "Dr. Jin was there to help create a better historian. He was there to create a stronger social activist. He was there to make me a greater man. I cannot thank Dr. Jin enough. He is the best honors fellow that a pre-pharmacy history major can ask for. I can only hope that these words do justice for nominating a remarkable intellectual."
FELLOW OF THE YEAR, 2016-2017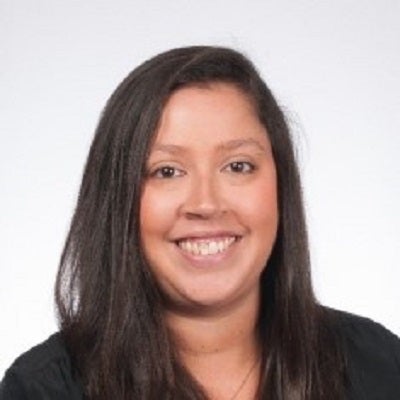 Dr. Laura Sanchez
Assistant Professor, Department of Medicinal Chemistry and Pharmacognosy
College of Pharmacy
Honors Faculty Fellows are individually assigned to provide personalized advising and mentoring to students. Each year, Honors College students nominate Fellows to be honored as "Fellow of the Year." We are honored to award the 2016-17 title to Laura Sanchez, Assistant Professor of Medicinal Chemistry and Pharmacognosy in the College of Pharmacy.
Professor Sanchez's research utilizes mass spectrometry techniques to study the chemical ways microbes communicate with one another and their surroundings. The lab uses this to better understand how microbes function in different disease states with the overall aim of rapidly identifying harmful bacteria based on the chemicals they produce which will permit clinicians and researchers to design more effective courses of treatment.
Dr. Sanchez's nominator, Shilpa Kolachina, illustrated why she is so deserving of this award by stating in her letter, "Whether I required help regarding the medical school admissions process, a last minute letter of recommendation for any scholarship or award, or just someone to listen… she has always been there and never gave me the impression that I was a burden. I think finding such an advisor is rare, and Laura has defined the true meaning of being an Honors College Fellow…I have never seen a professional so invested in ensuring that those under her guidance are aware of their full potential…she has profoundly impacted my undergraduate experience, and I think any student who receives her as an Honors College Fellow in the future will be very lucky."
FELLOW OF THE YEAR, 2015-2016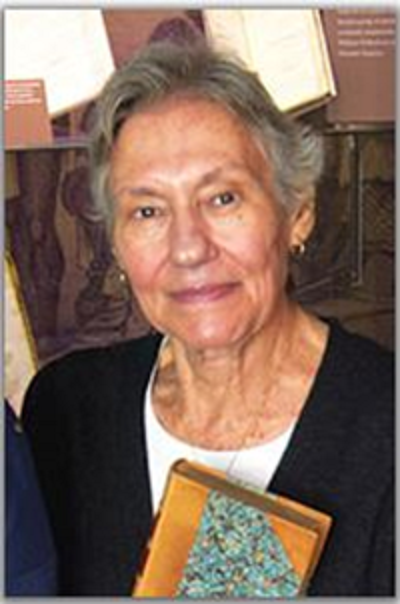 Dr. Nancy Cirillo
Professor Emerita, Department of English
College of Liberal Arts and Sciences
Honors Faculty Fellows are individually assigned to provide personalized advising and mentoring to students. Each year, Honors College students nominate Fellows to be honored as "Fellow of the Year." We are honored to award the 2015-16 title to Professor Nancy Cirillo, Professor Emerita in the Department of English in the College of Liberal Arts and Sciences.
Professor Cirillo's academic interests include Caribbean Studies; Postcolonial literature, history and theory; the rise of fascism and colonialism; and nineteenth- and twentieth-century British literature and history.
Professor Cirillo's nominator, Rafid Rahman, illustrated why she is so deserving of this award by stating in his letter, "…she always ensures that she is there for you, no matter the request, she is amazing at supporting her students and their goals. [Although she is] an English professor, Dr. Cirillo has helped me set up my medical career…and has done research on her own time to make sure she is up to date and can offer the best advice possible…Her support and mentorship has been integral to my success at UIC."
FELLOW OF THE YEAR, 2014-2015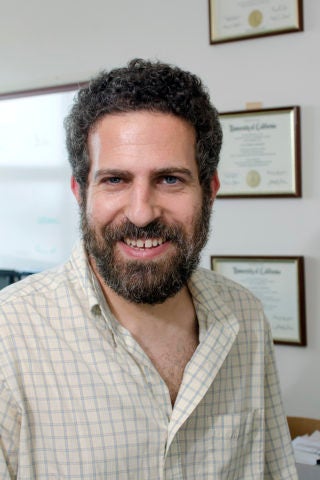 Dr. Alan Schwartz
The Michael Reese Endowed Professor of Medical Education, UIC College of Medicine
Honors Faculty Fellows are individually assigned to provide personalized advising and mentoring to students. Each year, Honors College students nominate Fellows to be honored as "Fellow of the Year." We are honored to award the 2014-15 title to Professor Alan Schwartz of the UIC College of Medicine.
Dr. Schwartz earned his graduate degrees from University of California-Berkeley, but has called UIC home since 1997. His Ph.D. in cognitive psychology led him to his current research in medical decision making. Currently, he focuses on helping physicians interpret literature, apply it to their own practices, and understand when circumstances require deviating from the standard. Dr. Schwartz also emphasizes the importance of patients' decision making, such as understanding their options and the reason why specific treatments are chosen. Dr. Schwartz hopes to broaden his students' view of medicine in these very capacities."
As a Faculty Fellow, Dr. Schwartz enjoys the chance to offer guidance and support as students navigate through the unique opportunities offered by the Honors College. He stated that he was "truly humbled" by his students' nomination and recognition, and he specifically valued knowing his words and advice had not only been heard, but also applied. As one of his students described, "Dr. Schwartz embodies the spirit of academia and of the Honors College."
FELLOW OF THE YEAR, 2013-2014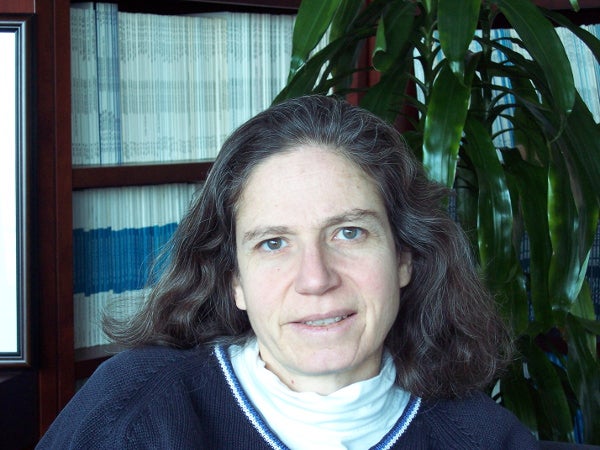 Dr. Roberta "Birdy" Paikoff-Holzmueller
Associate Professor of Psychology, Department of Psychiatry, UIC College of Medicine
Dr. Holzmueller has been a fellow in the Honors College for three years in addition to teaching an Honors Core on her speciality of developmental psychology with a focus on life transitions for children. Her nominator Randy Boley summed up her contributions when he wrote, "Whether I needed help in navigating the IRB process, applying for grants, writing research proposals, finding opportunities to volunteer, or helping me deal with stress and personal problems, Birdy has always made me feel like a priority, never made me wait for assistance, and always helped me to find the tools and resources I needed to succeed….Birdy has worked tirelessly for me, often playing the roles of mentor, ally, and advocate to ensure my success."
FELLOW OF THE YEAR, 2012-2013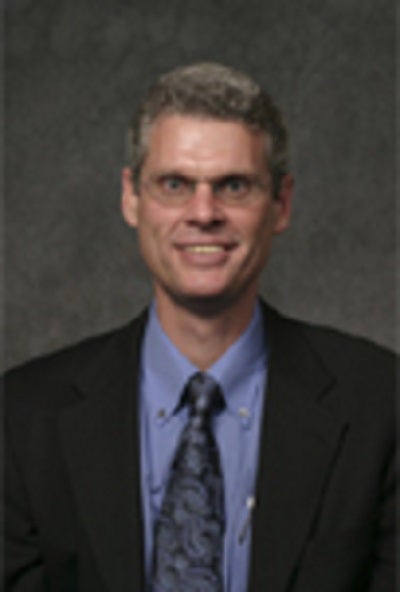 Dr. Gary E. Raney
Associate Professor of Psychology, College of Liberal Arts and Sciences
Professor Raney has been a Fellow in the Honors College for 15 of the 20 years he has been at UIC. He is a cognitive psychologist who studies how people read and remember text, especially how being bilingual can improve text comprehension. He has served the Honors College by being a member of the Honors Council under Dean Kaufman, and by working with dozens of Honors students over the years, many of whom have won awards for their research. He previously won the UIC Flames Alumni Teaching and Mentoring Award, the UIC Excellence in Teaching Award, and the UIC Teaching Recognition Program Award.
Dr. Raney received a record number of four nominations from his advisees. Alessandra Arreola, a Junior majoring in Psychology, wrote, "I transferred as a junior to UIC and I had so many questions about the Bachelors in Psychology I wish to pursue. When I first met Dr. Raney he was a very welcoming and helpful person. He gave me information about research and about classes that I should be taking. Without him, I wouldn't have known what research even was … Dr. Raney was the person who helped me stay on the path I opened at UIC and he motivated me to do my best in all my classes…."
John Westbrook, a Senior Psychology major, also contributed to the nomination by writing, "Dr. Raney's commitment to his students' success is demonstrated by the time and energy that he has spent with me and my Capstone thesis and graduate school applications. His dedication and generosity, along with his resources and knowledge, have been instrumental to the realization of my academic goals. Dr. Raney has offered the invaluable encouragement and assistance that are the makings of a fine Honors College Fellow."
FELLOW OF THE YEAR - 2011-2012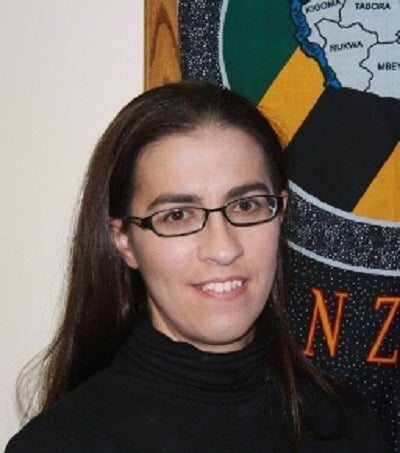 Dr. Crystal Patil
Assistant Professor in the Department of Anthropology
Crystal Patil is Assistant Professor in the Department of Anthropology in the College of Liberal Arts and Sciences. She received her PhD from the Ohio State University and has been teaching and mentoring UIC students since 2007. She teaches introductory and advanced courses on medical anthropology, including courses on World Cultures, Nutritional Anthropology, Women's Health, Culture, Medicine & Society and Violence. Her scholarship, funded by numerous funding agencies, focuses on global health initiatives aimed at improving health in Eastern and South Africa (Tanzania, Uganda, Malawi and South Africa) and in the United States. Dr. Patil is also the coordinator of the Anthropology and Global Health (AGH) Program.
Professor Patil was nominated as Fellow of the Year by four of her advisees. Biology major and Anthropology minor, Dylon Busser, describes her as dedicated to helping him make the most of his academic career and an incredible mentor who goes above and beyond. In his words, "She has taken me under her wing and challenged me to think critically about my future in conversations I will never forget."
Rebekah Ciribassi, who was in the Anthropology and Global Health program, explains that if it were not for Dr. Patil's one-on-one rapport, Rebekah could not have considered a future in the field. As part of a team Dr. Patil founded to study Sickle Cell disease at the UIC hospital, Rebekah received a unique and indispensible experience with collaborative, urban health research. Rebekah notes, "I have never heard her say 'no' to any student or colleague when asked for help, and I hope that the Honors College Fellow of the Year Award will be a small way to show our deep gratitude for her support and mentorship."
FELLOW OF THE YEAR - 2010-2011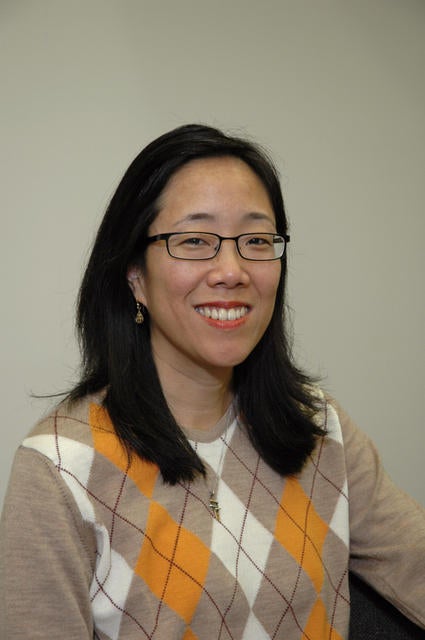 Cheryl Nakata
Professor of Marketing & International Business in the Department of Managerial Studies
Cheryl Nakata is Professor of Marketing & International Business in the Department of Managerial Studies in the College of Business Administration. She teaches global marketing, international business, and social marketing to undergraduate, master's, and doctoral students. Her research focuses on the intersection of culture, innovation, technology, marketing, and social issues in the global setting. Among her recent research projects are studies on poverty alleviation through business innovation. She serves on four editorial boards, and has received both teaching and research awards. She earned her master's of management degree from Northwestern University, and her doctorate degree from UIC. She serves as Vice President of Academic Affairs for the Product Development Management Association, the leading global organization devoted to advancing innovation theory and practice with members in forty countries.
Marketing major Otilia Flandro, who nominated Professor Nakata for this honor, describes her mentor as a "catalyst": a great source of inspiration and a "person who makes things happen." During her first semester as a transfer student at UIC, Otilia became involved as an undergraduate research assistant in Professor Nakata's research on innovation in the wine industry, work that ultimately led to Otilia's own Honors Capstone Project on the wine industry in Romania. Otilia writes: "Thanks to professor Nakata, I feel empowered to accomplish whatever I desire… She helped me to gain the confidence to overcome any internal or external glass ceiling. I wish that maybe one day I will be able to return the wonderful inspiration and encouragement that I have received from Professor Nakata. She is genuinely dedicated to seeing her students succeed. I can only hope that every UIC student meets someone like Professor Nakata."
FELLOW OF THE YEAR - 2009-2010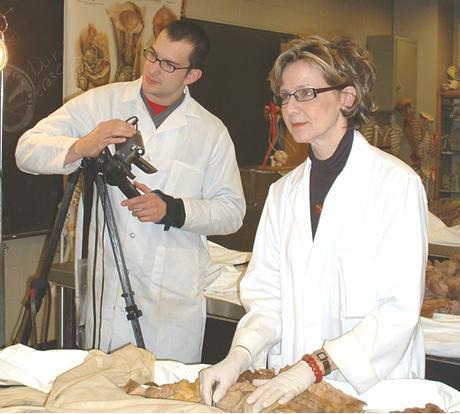 Dr. Mary Louise Bareither
Director of Undergraduate Studies and Clinical Professor in the Department of Kinesiology and Nutrition
Dr. Bareither teaches human anatomy to undergraduate students in kinesiology, nutrition, and pre-health programs. Her research involves studying the role of exercise in maintaining bone health and in the evaluation and improvement of the pedagogical processes used in undergraduate science education.
As one of her nominators explained, "Dr. Bareither's door is always open and she is always willing to help a student in need of some help. Dr. Bareither puts in so much hard work and effort to make sure that all the undergraduates in our department are successful at accomplishing our goals; and because of this, most of us are!" Another recommender concurs: "Not only does she mentor her official HC mentees, but Dr. Bareither goes beyond and mentors other students that are and are not affiliated with the HC.
"The students at UIC are truly part of her life's work. A good mentor benefits students in so many different ways, in so many seemingly insignificant places, and thereby shapes the course of their future lives. Dr. Bareither's influence works to steer her students in the right direction.
FELLOW OF THE YEAR- 2008-2009
Dr. Robert E. Gaensslen
Director and Professor of Graduate Studies for Forensic Science and Department of Biopharmaceutical Sciences
Dr. Gaensslen tries his best to motivate his students and impress upon them the importance of good Forensic scientists. "The work you are going to do in forensic science is extremely important. It can mean incarceration or freedom to someone accused in a criminal matter. We need to help insure that our science serves the interests of justice in a fair and unbiased way. Nothing we could do in life has more significance."
FELLOW OF THE YEAR - 2007-2008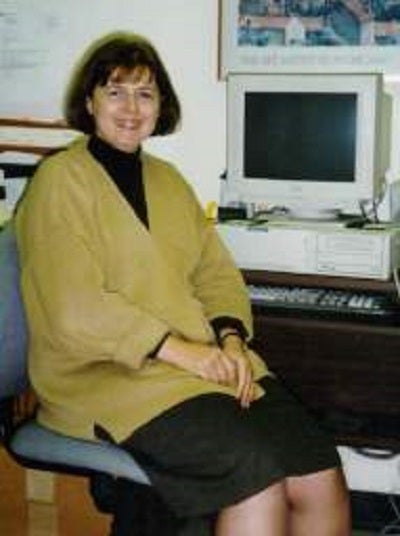 Dr. Rhonna L. Cohen
Dentistry
As a scientist and teacher who has a clinical degree in dentistry and a PhD in experimental pathology, I am particularly interested in understanding how normal regulation of homeostasis is altered in disease. My research focuses on the relationships and interactions of the immune system with the skin (e.g., wound healing) and of the immune system with the nervous system (e.g., stress-induced depression of immunity including anti-tumor immunity. I enjoy interacting with students. I teach cell biology in the context of human pathophysiology and have designed and teach a course for dental undergraduates that introduces them to the process of research and gives them some hands-on experience with research design. In the lab, I have directly mentored or informally mentored students who are doing or considering research careers.
FELLOW OF THE YEAR - 2006-2007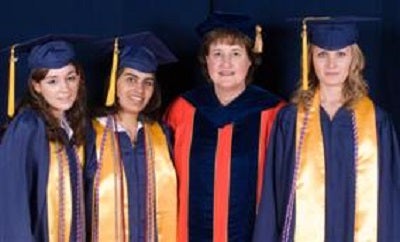 Dr. Lorna K. Finnegan
Department of Public Health, Mental Health, and Administrative Nursing
Dr. Lorna Finnegan was named the Honors College 2006-2007 Fellow of the Year based on nominations made by three of her students. Megan Dorsey wrote, "Dr. Finnegan provided opportunities for me and other nursing students that culminated in our presentation at the UIC College of Nursing Research Day… I gained a mentor that I believe I will stay in touch with for a long time after I graduate." Arpita Patel added "Dr. Finnegan is a brilliant mentor who sees potential in her students, then helps them enhance their personal, educational, and occupational experiences… Her ability to understand her students and share her knowledge made being a part of the Honors College worth all the hard work." And Vilija Geleziute remarked "…I would never have had a chance to participate in so many events if Dr. Finnegan had not encouraged or nominated me. She made a huge difference in my college experience. She is a great mentor and advisor who deserves to be recognized for all her hard work and attentiveness to students."
FELLOW OF THE YEAR - 2005-2006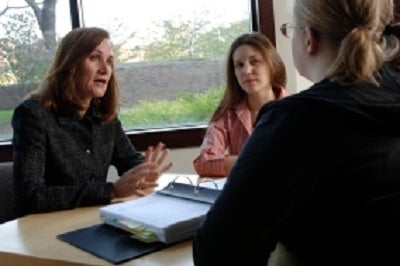 Dr. Bette Bottoms
Bette Bottoms received her doctorate in psychology from SUNY Buffalo, before joining the UIC psychology department in 1992. Her research interests include the interface of psychology and law, and she has focused much of her research on children in the legal system, both as victims and witnesses. She is active in community education as well, teaching law enforcement how to work with child victims.
An Honors College Fellow since January 2005, Dr. Bottoms has a long history of working with Honors Students, "I have worked with Honors College students in my research laboratory every year that I have been here since 1992. It's been a wonderful experience to work with such bright, dedicated students. I put off becoming an Honors Fellow for many years because I didn't think I had the time, but became one anyway, and have been very pleased with the experience."
FELLOW OF THE YEAR - 2004-2005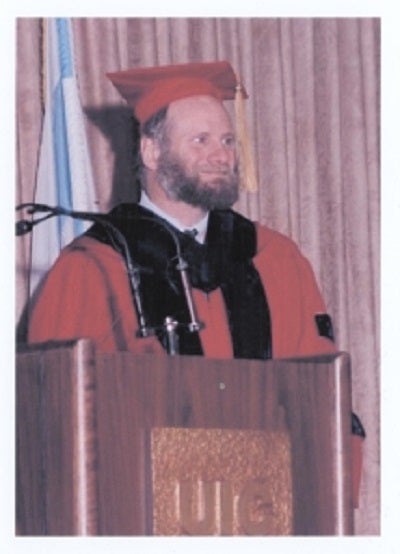 Dr. Paul Malchow
Dr. Malchow is not only a great professor and research adviser, but he is also one of the greatest persons I have ever met. In my view, he's done more for students than any single department. He truly deserves to be recognized as Fellow of the Year.
FELLOW OF THE YEAR - 2003-2004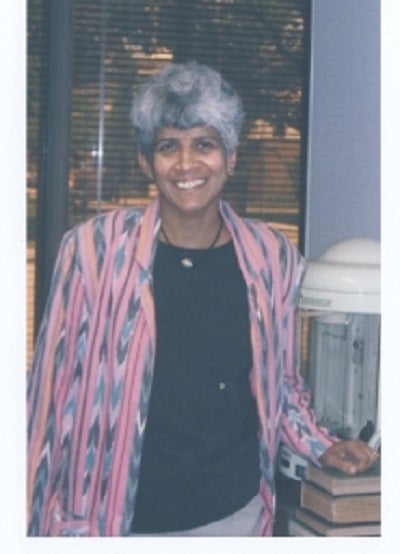 Dr. Mrinalini "Meena" Rao
Dr. Rao is simply an amazing woman. She has proven herself to be a productive member of the UIC community, and yet she still finds the time to be a good Honors College Fellow for her students.
FELLOW OF THE YEAR - 2002-2003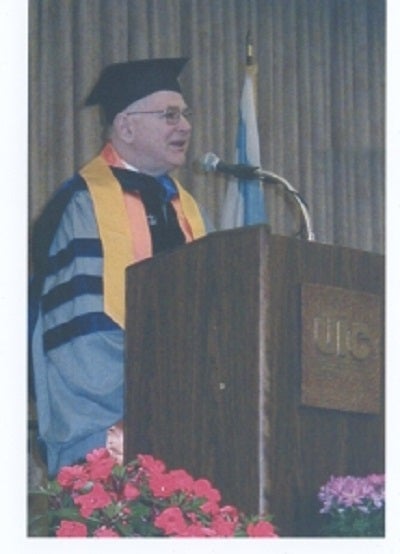 Dr. Donald Chambers
Dr. Chambers has not only proved to be an excellent Honors College Advisor, but more importantly, a friend and confidant. His guidance has really helped me rise to be a more intellectually confident and socially responsible individual.